Our wholesale supplier Tiki Farm just introduced these awesome new Tiki Mugs!
We sold out of our first order and have more coming soon!
First up is a great design from a brand new Tiki Farm collaborator, Tank Standing Buffalo.  Tiki Farm proudly presents "Drum of the Forefathers".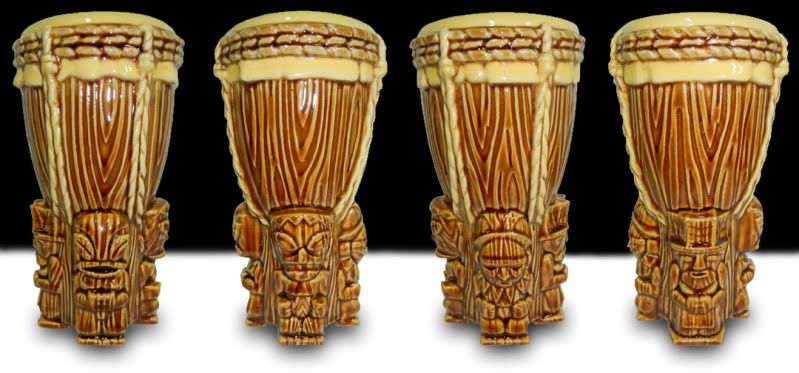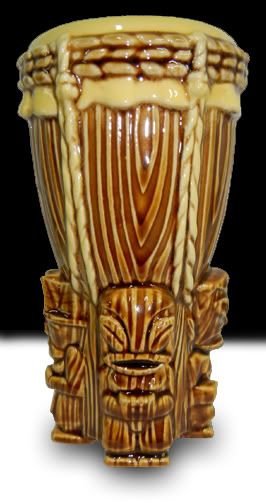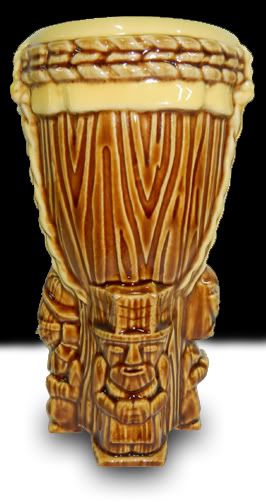 This design was inspired by the Edgar Leeteg "Tahitian Drummer" black velvet painting and features stylized versions of the Tiki God as seen on that painting as well as stylized versions of the Trader Vic Papua New Guinea Tiki God, Thor Heyerdahl's Kon Tiki Expedition Tiki God and an early advertising art stylized Don the Beachcomber Tiki God.
About Tank Standing Buffalo:
As a child Tank Standing Buffalo got a job selling cotton candy at the circus. When the crew packed up and left town, he ran away and met them at their next destination with big dreams of a life long career with the traveling show. The next day the carnival folk made him call his parents and took the disheartened boy home. Yet this did not stop the ambitious Tank from following his dreams of being a part of the big top.
As a young man Tank designed and built traveling haunted attractions for carnivals and theme parks. This paved the way for his own traveling sideshow, "The Seventh Stitch Circus", which took him far and wide.
Recently Mr. Standing Buffalo completed a totem pole carving apprenticeship on Canada's North West Coast. He now spends his days carving cedar masks and restoring classic pinball machines to their former glory!
To see more of Tank's work, search him on facebook.
Next up is our newest lowbrow incarnation of "High Octane", designed by our pal Tony Squindo.  With a high attention to detail, no expense was spared in the creation of this design.  Intricate secondary hand glazing and those pipes folks… the effect could only be best achieved by using AUTHENTIC PLATINUM in the glaze!  This goggle sportin', stogie puffin' madman of a design is breaking speed limits while standing still!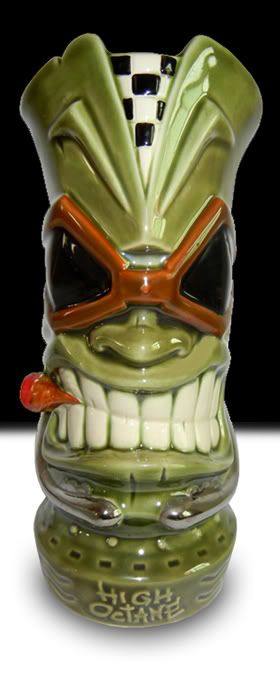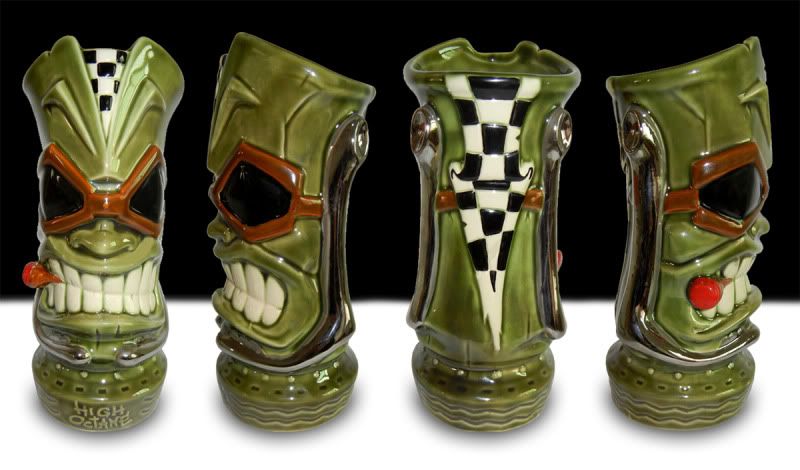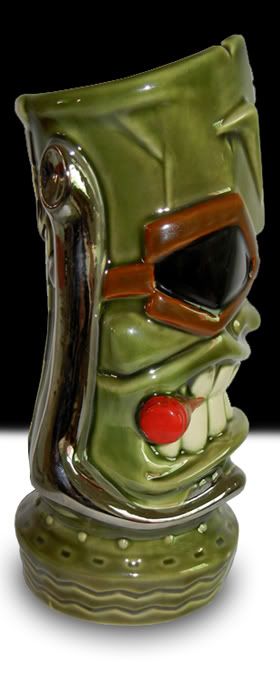 About Tony Squindo:
Born in New Jersey, Squindo grew up on heavy doses of Saturday morning cartoons and the smells of gasoline and grease.  At age 10 he attended his first drag race and was instantly fascinated with the hot rod world.  From that moment on, he was either drawing a car or under one.
In the summer of 1999, after years of pushing his art, he met Lars Ulrich of Metallica and his luck began to change. Since then, he's been creating Metallica merchandise nonstop.  He has designed album art, clothing, DVD covers, and toys for some of the most influential bands today including Metallica, The Misfits, The Ramones, Korn and GreenDay.
In 2005, he finally quit the daily grind again to pursue art 100%.  Since then, his lowbrow work has shown on gallery walls from the ASR Ripper Show, Gasoline Gallery and Gallery 1988 in LA to east coast galleries The Parlor, Art N Soul, East Atlanta Gallery and abroad, the Spacejunk Galleries in France.  His art has been published in two books thru Korero Books and in several magazines from IronHorse to Tattoo Life.  The growing popularity of his use of wood stains and hand carved panels, auto body filler, fiberglass and acrylics, were all strongly influenced by his cartoon and gearhead upbringing.
Squindo is steadily designing merchandise and countless show posters for bands and venues, ski design for Rossignol's "Seven Artistic Sins" project, Hasbro design and layout, and skateboard designs,  all the while, creating nonstop freelance graphics, painting, sculpting, tattooing and wrenching on his hot rods in a secluded North East Pennsylvania studio and log cabin home.
To see more of Squindo's work, visit him at www.squindo.net.
Tiki Farm has collaborated with over 70 various artists to-date and we are very proud to introduce those of you who are not familiar with Tank or Squindo to their work.  It is artists like these that make what we do here at Tiki Farm an absolute blast and we hope that you dig our newest creations from these talented fellows.
Mahaloz!